What is a Rat Rod?
I found this on the Internet and I like it:

"They are throw-back hot rods to the ones made in the late 40s to mid 50s. They can be painted primer but the best ones are not painted, the rustier the body the better, and vintage bullet holes and rust holes are the best of all worlds. A piece of galvanized steel screwed to the top with sheet metal screws is preferred if it is a coupe. There is NO interior, including floorboards and the only upholstery allowed is a Mexican blanket. 8-ball or skull shift nob is required. Wiring harness with twisted and taped connections hanging below the dash is a must. There MUST be some rusty bailing wire holding something on the body.

Suspension is totally rusty and joints must be built up with vintage cracked, hard grease. Must have a banjo rear end, STOCK I-beam front end (Mor-Drop heated and lowered axle is fine, after-market billet piece is definitely a NO-NO) and transverse springs. Also suspension must be modified for much lower stance and must have some globby, poorly done very rusty welds on critical components. Engines must have original faded factory paint and vintage oil runs. Flatheads, Chevy 6s, 50s Olds, Pontiac, Buick, Caddy, Lincolns, and even hemis are the proper engine choices. All aluminum like valve covers and intake manifolds must be oxidized and pitted. Tires MUST be old whitewalls, pie-crust slicks on the rear.

The appearance must be of a piece of trash death trap holding a monster engine. Go fast, all else is secondary!

At rod runs they always park in a group in a far corner of the show."
Wes
Wes Bondy lives in the Kansas City area with his wife and baby. He has been into tractors and old-trucks since he was a kid.
As far as Brad is concerned he is a walking dictionary of old car information. :)
Wes grew up in Missouri and received his college Degree from MidAmerica Nazarene University.
E-mail Wes

Pictured below is Wes standing in front of the original "California Kid" (and clone) during a recent trip to Pete and Jakes in Peculiar, MO.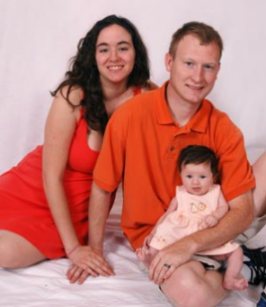 Brad
Brad Wood also lives in the Kansas City area with a wife and kid. He met Wes in college (MNU).
He is a late-comer to the hot rod scene as it wasn't until he met Wes that he was intruduced to the world of building cars. He loves working in his garage building things with his hands, and for a day job, builds web-based applications in ColdFusion. He has a personal site, and is responsible for this site as well though he regets the small amount of time he has to spend on either. Brad also writes on his tech blog located at www.codersrevolution.com.
E-mail Brad

Pictured below is Brad and his daughter.