Known Pickups
These are the 1930's Pickups we know about.
Please help us confirm which trucks go with which pictures or if there are existing ones we don't know about.
Also, we would love to get ahold of an serial number records for Stewarts. Drop us a line.

1935 Stewart Buddy located in Tennessee
E-mailed to us by owner Mike Kisber in Memphis, TN
Previously owned by Bobby Roy in Rio Rancho, NM
Originally owned by Walsh Trucking Services in Massena, NY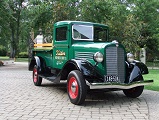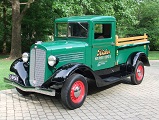 Mike Kisber also owns this 1924 Buddy Stewart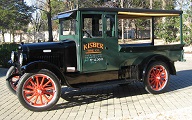 1934-5 Stewart Buddy located in California
E-mailed to us by owner by Marc Deraleigh in Bloomington, CA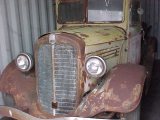 1937 Stewart Buddy located in Vermont
(Located via Hemming's motor news.)




Stewart Buddy assumed to be located in QLD Austraila
Peter Bremner placed ad in 2008 issue Wheels Of Time for parts
No Picture Available


1935 Unrestored Stewart Buddy 40-H
Owned by Allan Stewart in New Zealand
(Located via 2007 AHTS Antiquie Truck Registry)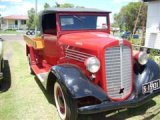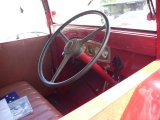 Pictures from www.classictruckshop.com web forum


1935 Stewart Buddy (listed as "Buddy Stewart")
Unknown Owner
(Located via 2007 AHTS Antiquie Truck Registry)



We THINK this is the correct image. It is from an Ebay listing as a '36 that sold from Boston, MA in 2004


1937 Stewart Ute (Sort of a pickup)
Owner and location unknown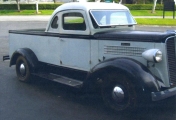 ---
Stewart Advertisements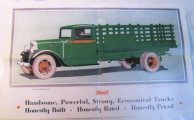 ---
Stuff WE own
Here is our collection of Stewart Buddy information and memorabilia. We are most interested in the 34-37 pickups. Let us know if you have any information to share with us.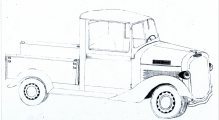 Wes drew this picture of a 1935 Stewart Buddy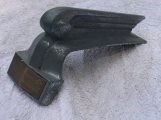 1937 Stewart Buddy hood ornament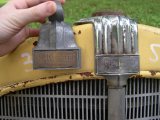 1934 Stewart Buddy grill shell. Also a comparison to the '37 ornament shown above.