Federal Express
Here is our first mockups of the Federal Express from August 14th 2008

It feels good to be able to put a face to this one. We've been collecting parts so long I was beginning to think we'd never get to this point.
Wes and I finished pulling off the Ford Ranger cab from the frame rails this afternoon.
Then we had to go digging through my garage rafters to find the Federal hood sides and suicide doors for the Hudson cab.
My favorite part is the 36 Federal radiator shell. It really supplies some attitude.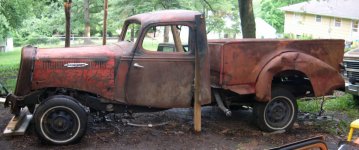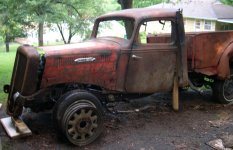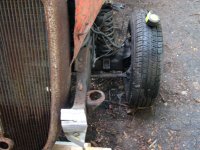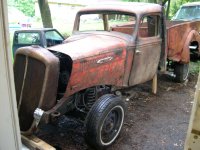 65 Chevy
Wes did a stock restore in high school.
She has a mean-sounding inline 6.
Head gasket is leaking though and clutch is worn. When we get a chance, we will get around to pulling the motor and fixing.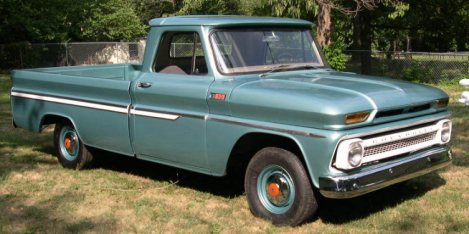 66 John Deere 110
This may not be a hot rod but it has four wheels and an engine.
This is Wes's 1966 John Deere 110. I rebuilt the engine after rod failure. The rod siezed up on the crank and snapped in half.
It is an 8HP Kohler 181s Cast Iron block. We took .010 off the cylinder walls for a total of .020 over, and .010 off the rod journal of the crank.
After last winder she needed a carb rebuild to fix a sticking needle valve, but after that and some more patch panels on the deck, she's running like a champ again.